WELCOME TO DELAWARE STADIUM CORPORATION !
The Delaware Stadium Corporation (the DSC) is a private corporation formed in 1993 to own, manage and operate the multipurpose facility now known as Judy Johnson Field at Daniel S. Frawley Stadium.
Now twenty-two years old, the Stadium hosts hundreds of events each year. The lead tenant is the Wilmington Blue Rocks, a High-A East League Affiliate of the Washington Nationals. The Blue Rocks are one of the most successful minor league baseball teams. They play 60 home games each year, as well as playoff games in most recent years!.
In addition, the stadium hosts hundreds of other events, including college, high school, and other amateur baseball games; concerts and various corporate and non profit events.
In 2002, the Delaware Sports Museum and Hall of Fame opened the doors to its magnificent new facility in the Stadium.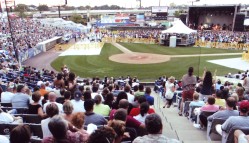 The Stadium is available for public use.
Finally, while the DSC is governed by a board of directors, the day-to-day operations are managed by our Executive Director Joe McDonald.
The DSC is committed to making the Stadium a cornerstone of sport activity in Delaware and the region. Thank you for your interest in the stadium. See you at the ballpark!